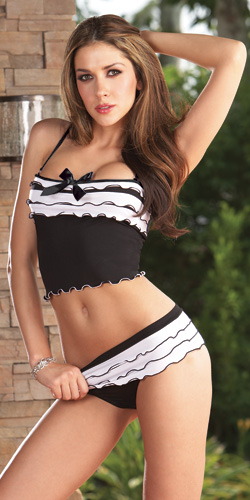 If you're in search of a cute, affordable
lingerie
set that you can wear for fun, yet is comfortable enough to sleep in - the
Pardon My French Cami Set
is exactly what you need. It's cute, while being semi-modest, which is great if you are lacking a bit of confidence. It's EXTREMELY comfortable too. I noticed that the set I received had a tiny variance from the photo. That being the very bottom of the top has a white line around the ruffle, and mine has the ruffle but its black so you can't really see it very well. The bra isn't super supportive, so for real big chested women it might be uncomfortable. But if you don't have that strong need for chest support, it's sooo comfortable - like not wearing a bra at all. The backside of the bottoms has a cute bow that isn't too big or obnoxious, and the peephole directly underneath is super cute too. This is a great set if you're new to lingerie or prefer a milder set. It's both cute and sexy without being so sexy that it feels unnatural or adds pressure. I love how I can fall asleep in this set, making me feel like it's worth spending money on, opposed to most sets that get worn for 10 minutes and then aren't put back on for the rest of the night.
Buy it: YOu can purchase the pardon my french cami set at
EdenFantasys
for 28.99.
Disclaimer - I received a gift card as compensation for this post. No other form of compensation was received. Opinions are my own.