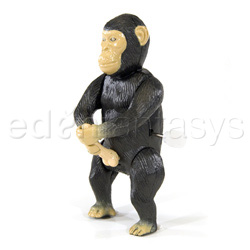 When I think of
Edenfantasys
, I think about sex toys, lingerie, adult
dvd's
, etc. Did you know that
EdenFantasys
also sells products for bachelor and
bachelorette
parties as well as gag gifts?
Everytime
that there is gift giving between my boyfriend and myself, I get him a normal gift and a gag gift. When I started browsing
Edenfantasys
gag gift section and came across their
Masturbating Monkey
, I knew I had to get one. The monkey retails for 7.99 which I thought was really affordable. When my boyfriend opened this he thought it was hilarious and we had to crank it up to see how it worked. When the crank was turned and the monkey started to move and make an extremely loud grinding noise, we started laughing even harder. The monkey does work but it's extremely loud and you can hear all the gears inside grinding. To us this made it even funnier. If you are planning a bachelor or
bachelorette
party, or just need a good gag gift be sure to check out
Edenfantasys
!
Disclaimer - I Will receive a gift card as compensation for this post.