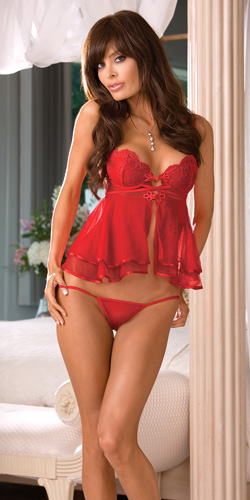 I was lucky enough to receive an adorable lingergie set from eden fantasys for review. My favorite color is red and my boyfriend's favorite color for lingerie is red, so I was immediately drawn to the
china doll chiffon
set. When it arrived it was wrapped up really cute with tissue paper and all which always gets me excited. I ordered a small and it fits great other than I wish the top was a bit tighter, but I'm only an 'a' cup so I wasn't surprised that it didn't have a real close fit. Don't get me wrong, it's not 'too big' it's just looser fitting which is a bit disappointing when you are small chested and need that 'tightness' to help you out, haha. I really love the top, how it's layered and has a wavy look. I feel like this is a great set for people who are somewhat self conscious about their belly. It's extremely feminine and shows enough to excite your guy but it gives me confidence knowing that my belly isn't hanging out.
If you look in the photo you can see red straps under the chest that make a cross. I didn't notice this before ordering and those are actually an elastic material which surprised me. They don't bother me at all I just wouldn't have guessed from the photo that they would be elastic. Also the two areas on the top where the material meets is similar to a button closure, so they can be opened that way
They do feel somewhat delicate so I would suggest hand washing, even though I don't hand wash most of my linergie even when it suggests doing so. This set is adorable though I definitely think it's worth the extra effort.
Buy it: Visit
eden fantasys
to purchase this linergie set for 31.99
Disclaimer - I received a free lingerie set for review. I was not compensated for this post in any other way. The opinions in this post are my own.