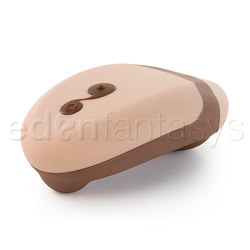 I have tried out for or five vibrators in the past, but none of them were solely
clitoral stimulators
. I have been curious to try out a clit vibrator for some time, and while browsing the products available at EdenFantasys, I realized how many options I had to pick from. I wound up deciding on the
Legamento
, a middle of the road vibrator in terms of cost (49.99), that had a pretty good star rating (4 stars). I thought it sounded like a pretty safe option. It arrived with batteries included, and a trial size tube of lube included as well. It took a couple minutes to figure out where the battery case was, because it's well disguised, but I popped the batteries in. The Legamento has two nubs, of different sizes and there are various speeds and types of vibrations, all of which are unique enough to feel different. It's pretty small so is great for traveling. The only downside for me is the noise level. According to others' ratings, its 2/5 in terms of noise level - I was shocked at this after hearing this vibrator. I have four or five other vibrators and this is the loudest by far. I have a roommate whose bedroom is next to mine, and I don't feel comfortable using this when anyone else is home because of the noise level. Due to that it has gotten much less use than it would otherwise, because I do enjoy it's vibrations. Seems how it is so small, it can be used while having intercourse or while using an internal toy as well, making it a great option for couples.
Buy it: You can purchase the legamento from
EdenFantasys
online at edenfantasys.com
Disclaimer - I will receive a gift card as compensation for this post. All opinions are my own.