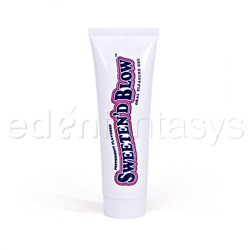 I got the chance to work with eden's fantasy on a review. They have lots of great products including
sex toys
, lingerie, lube and more. I chose sweeten'd blow which is exactly what it sounds like. Gel that is designed as an edible lube, particularly aimed at being used for oral sex. It comes in two flavors, peppermint or bubblegum. I ordered this in bubblegum for review. This tastes really similar to double bubble. You know, the really hard, yellow wrapper bubble gum that gets thrown in parades? Although double bubble is one of my least favorite types of 'bubble gum' flavored gums, it is still much more desirable than oral sex without sweeten'd blow. I really like the consistency of the gel, it's not water enough to drip but it doesn't seem sticky or gooey either. The flavor lasts much longer than I would have expected also. We applied this 6 or 7 times, which sounds like a lot but when spaced out over approximately 45 minutes it means the flavoring lasted 6-8 minutes after being applied.
I would really love this product if the flavoring was more favorable to me. I would love to try out the peppermint flavor.
My boyfriend said that it didn't feel any different to him so he didn't really have an opinion on it either way. This product can be used on women too but we haven't tried that yet.
But it: You can purchase sweeten'd blow on edenfantasys.com for 8.99
Disclaimer - I received sweeten'd blow for the purposes of this review. I was not paid for this post. All opinions are my own.